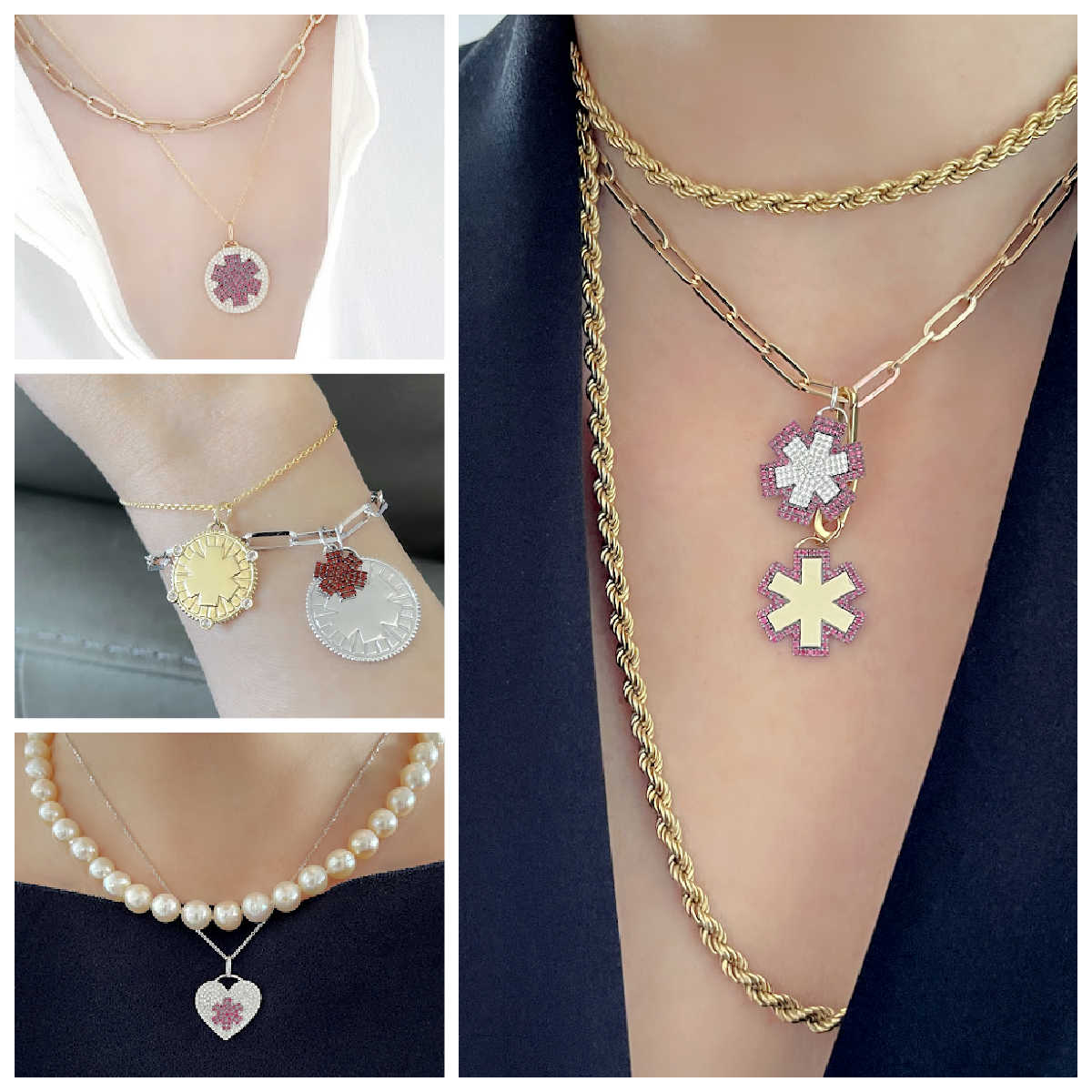 STUNNING SECURITY
Embrace your exquisite taste with our selection of custom laser-engraved diamond medical bracelets, necklaces, pendants, and charms. Timeless treasures perfectly tailored to complement your fine jewelry collection and personal health priorities
PERSONALIZE YOURS
THE REVIEWS ARE IN...
★★★★★

"I received my bracelet today...it's stunning! Decided if I had to wear something for the rest of my life it should be gorgeous!"

★★★★★

"BEAUTIFUL. PERFECT. This heart is absolutely fabulous...it actually makes wearing medical jewelry a pleasure. SUPERB quality, exactly as described"

★★★★★

"I just received my custom order CHARMED Medical ID bracelet ❤️️ absolutely love it!"
OUR MISSION...
To empower you to prioritize your personal safety with grace
and confidence, while safeguarding your privacy and embodying your exquisite
taste.
Here at CHARMED, we believe that you deserve to wear
something as extraordinary and alluring as the woman you are.
Our meticulously crafted collection of luxury medical alert jewelry encompasses modern
elegance and the timeless appeal of precious metals and gemstones, ensuring
that you radiate confidence and sophistication.
learn more about CHARMED
How to Customize Yours...
Diamond Medical Alert Jewelry
Introducing our Diamond Medical Alert collection - essential emergency protection merged with elegance and luxurious materials. Embrace your exquisite taste with our selection of custom laser-engraved gold medical bracelets, necklaces, pendants, and charms, perfectly tailored to complement your taste, wardrobe, and lifestyle.
Crafted with meticulous attention to detail, our stylish medical ID jewelry is available in your choice of yellow or white gold, radiating a captivating high polish finish. Each piece features the universally recognized star of life symbol, gracefully embellished with pavé rubies, and encircled with pavé diamonds for an exquisite touch.
At CHARMED, we take great pride in providing priceless protection. Our designer medical bracelets for women are thoughtfully designed to cater to individuals with health conditions that may lead to a medical emergency, such as diabetes, allergies & asthma, epilepsy, heart disease, and various other conditions. Additionally, our bracelets offer support to those whose conditions may be triggered by trauma or common medical treatments.
Rest assured, our luxury medical alert jewelry comes with a one-year warranty and arrives precision laser engraved with your personalized emergency medical information, ensuring that you are always prepared for any situation life may bring.